We have adjusted the Gallery schedule — and we cannot promise that this one will not get changed too, but we would like to have at least some hope and an illusion of stability in our world; please keep checking back for more information, and we will keep you up to date.
​"Factory In Bloom"
Work due Saturday, May 16th, 2020
Show runs Monday, May 18th through Friday, June 12th
Reception 6-8 p.m., Saturday, May 30th
We have invited a group of Williamsport artists to show here. The Pajama Factory has been an incubator for creatives representing a variety of disciplines and aesthetic traditions for over 13 years. One of the most exciting things about this process has been its ability to regenerate itself creativity throughout the region. The Pajama Factory's relationship with The Exchange Gallery has been longstanding including two exchange exhibitions, one at the Factory Works Gallery and another at The Stairwell Gallery at The Exchange's former home in The Moose Exchange. Additionally, long-time tenants of The Pajama Factory including Chad Andrews and Brian Spies have played important roles with The Exchange — Chad as a board member and Brian as the original Art Cart facilitator. As the curator of this show, Brian has focused on Factory tenants who either might not have previously been included in shows at the Exchange or are relatively recent additions to the Pajama Factory community. The artists chosen represent formal traditions as varied as watercolors and printmaking, assemblage and encaustics. They all embody the spirit of a Community In Bloom!
"Cover of a Cover" open call show
Work due Saturday, June 13th, 2020
Show runs Monday, June 15th through Friday, July 10th
Reception TBA
Celebrating The Exchange's tenth anniversary, we have brought back one of the most popular open-call shows from the past: Show us how YOU reimagine a record album cover!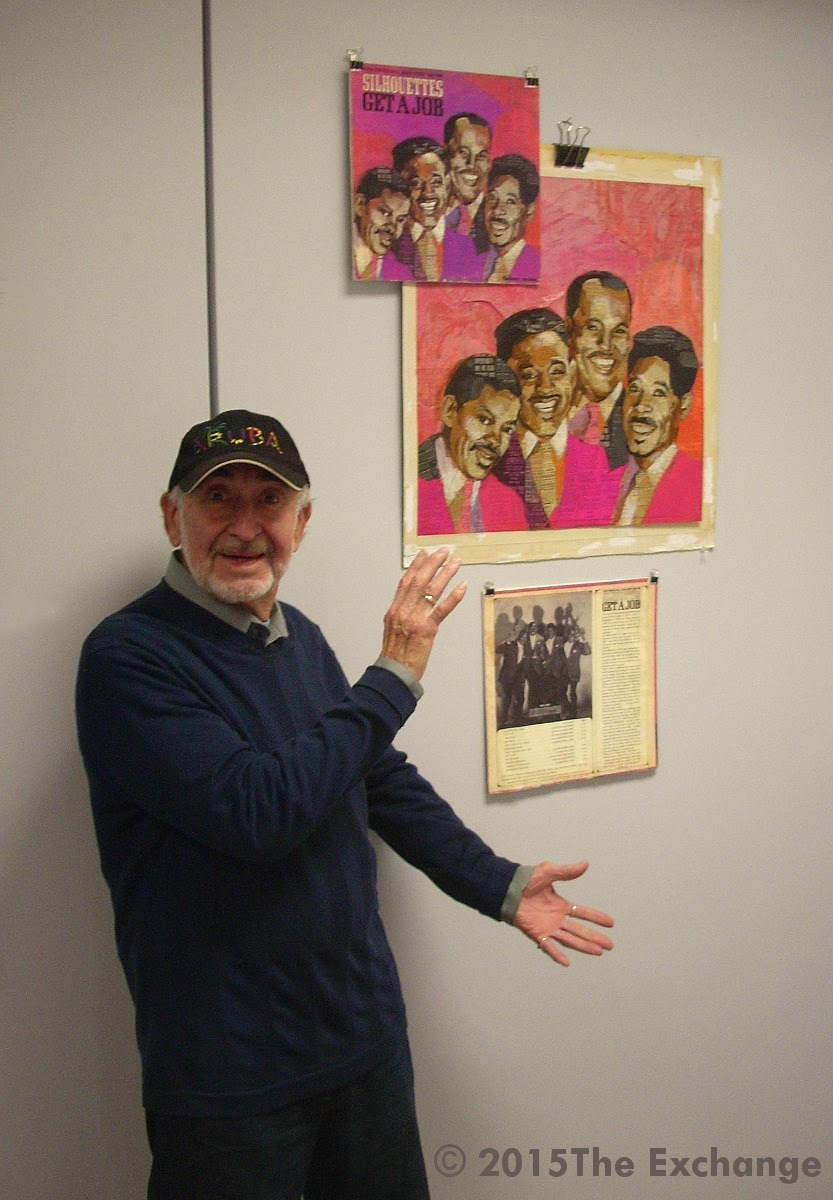 ​During the 2015 "Cover of a Cover" show, Sam Dion, one of Bloomsburg's artist treasures, brought in original album cover art that he did for the Silhouette's album "Get a Job" — in 1968!  We hung the original along with a reproduction of the album cover, plus a mock-up of the album's back cover, autographed by each of the four Silhouettes!  Sam lives in Philadelphia now and just turned 90 years old.
Moose Exchange throwback open-call show — "Nest 3"
Work due Saturday, July 11th, 2020
Show runs Monday, July 13th through Friday, August 7th
Reception TBA
Celebrating The Exchange's tenth anniversary, we will bring back this popular open-call show theme from the past. Interpret it however you wish; as long as your piece fits through the front door, we'll display it!
For a fascinating look at the science of birds' nests, see this story from the New York Times.
"Doppelganger" — open call show
Work due Saturday, August 8th, 2020
Show runs Monday, August 10th through Friday, September 11th
Reception Saturday, August 22nd, 2020 (after ArtFest)
What does this theme mean to YOU? We want to see your artwork!​
Moose Exchange history — open call show
Work due Saturday, September 12th, 2020
Show runs Monday, September 14th through Friday, October 9th
Reception TBA
Celebrating The Exchange's tenth anniversary, we want YOU to bring us images that show the Moose Lodge and the Moose Exchange in its heyday — photos, show posters, bowling scoresheets, and your artwork about the building!
​"Out of Many"
Show runs Saturday, October 10th through Friday, November 20th
Reception Saturday, October 10th
Celebrating The Exchange's tenth anniversary and just in time for the national election, we bring you a show about migration and immigration by the same group of photographers who brought the Marcellus Shale Documentary Project to the Moose Exchange in 2012. Stay tuned for details about other related exhibits, lectures, and events in other locations in Benton, Berwick, Bloomsburg, and Danville.
"Cash & Carry VII" open call show
Work due Saturday, November 21st, 2020
Show runs November 23rd, 2020, through January 8th, 2021
Reception TBA
Once again, we will give away the panels for you to make artwork on; more details to come in summer 2021.